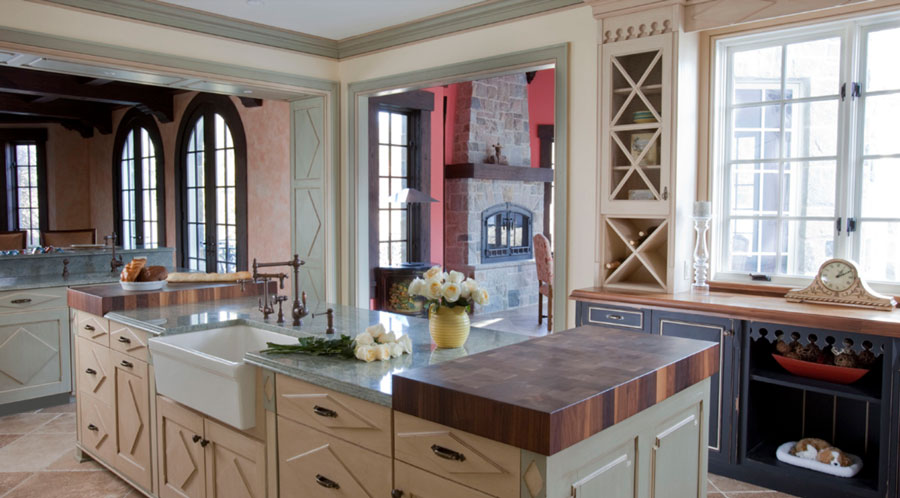 Classic French Country Kitchen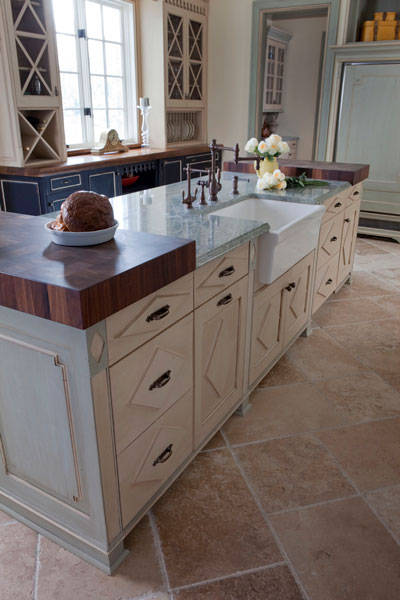 When it came to create a French Country kitchen in Brookville, New York, the designer took inspiration from a little bit of French history and added some present day charm. Designer Ken Kelly of Kitchen Designs by Ken Kelly, Inc. created a French Country kitchen design using an exquisite collection of Bentwood cabinetry, faucetry and countertops. The absolutely authentic door designs, custom finishes, accoutrements, and concept details — was a result of an extensive collaboration with Jack Arnold, one of America's foremost French Country architects.
The exquisite Brentwood cabinetry was inspired by one of the most enduring traditions in French furniture history. During the French Revolution in 1789, the monarchy of Louise XVI was toppled. For fifteen turbulent years, three other regimes – the Republic, the Directoire, and the Consulat, rose and fell in rapid succession. For cabinet makers, the ornate styles associated with the French monarchs were no longer popular. A new style of furniture was hurriedly commissioned. This style, came to be known as Directoire. Name after the elected governments of this troubled time. Created by demand and the need for improvisation, the Directoire style featured simplicity and subtlety. While the basic geometric shapes of Louis XVI style remained, the silhouettes are austere and clean. In keeping with French Society's transition away from the extravagance of the Royal French Court, colors are now subdued and decoration is at a minimum.
A color palette of black, green, and off white set the tone of the kitchen's style. For the cabinets, Ken combined four unique door styles. Avignon, a diamond pattern, solid raised panel. Rochelle, a square shaped middle panel with 1″ x 1″ clipped corners. Toulouse, a raised pyramidal center panel with an applied molding – and Cassis, a decorative X-shaped mullion door used in combination with dove wire, which has smaller holes than chicken wire.
Behind the stove, a hand-painted mural adorns the porcelain backsplash. The Waterstone Traditional Wall Mounted Pot Filler and American Bronze finish adds a functionality and style to the cooking area. The designers added an exposed interior spice shelf to the hood for easy access. The countertops are a unique combination of granite and cherry chopping blocks. The sink area features more Waterstone Faucet products. A Towson Kitchen Faucet with matching Hot and Cold Filtration Faucet, soap dispenser and side spray, also finished in American Bronze. The step-up eating bar has a built-in entertainment sink and Waterstone Bar Faucet for drinks and ice.
For the SubZero refrigerator and freezer, Ken Kelly created an armoire-style configuration with ornate storage and panels. The unique wainscoting panels, door casings, and crown moldings are a elegant compliment to the French Country cabinetry collection. Ken's overall creative process resulted in a remarkable kitchen design with character, sensible design, and understated elegance.
About Kitchen Designs:
Award-winning kitchen designer Ken Kelly, CKD, CBD, CR founded Kitchen Designs in 1982. For 34 years, along with his long-time partner Grace, have run a family-owned business. With two Long Island kitchen and bath showrooms in Nassau and Suffolk Counties, Kitchen Designs is made up of a team of wonderful, dedicated professionals. Their pride shows and Kitchen Designs has become the number one Wood-Mode dealer in New York, New Jersey and Connecticut. Number 7 nationwide doing what they love to do. In addition to Wood Mode custom cabinetry, Kitchen Designs carries their own signature Ken Kelly line as well as other European, Canadian, and American brands. Kitchen Designs pride themselves on an unsurpassed reputation for client satisfaction providing precise attention to detail.
Kitchen Designs by Ken Kelly
26 Hillside Avenue • Williston Park • New York 11596 • (516) 746-3435
11 Bridge Street • Sag Harbor • New York 11963 • (631) 808-3116
www.kitchendesigns.com
More Photos…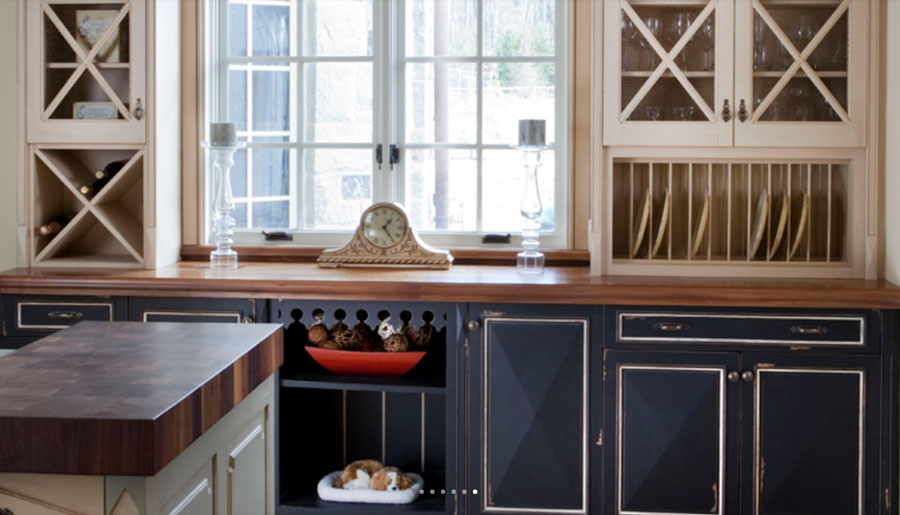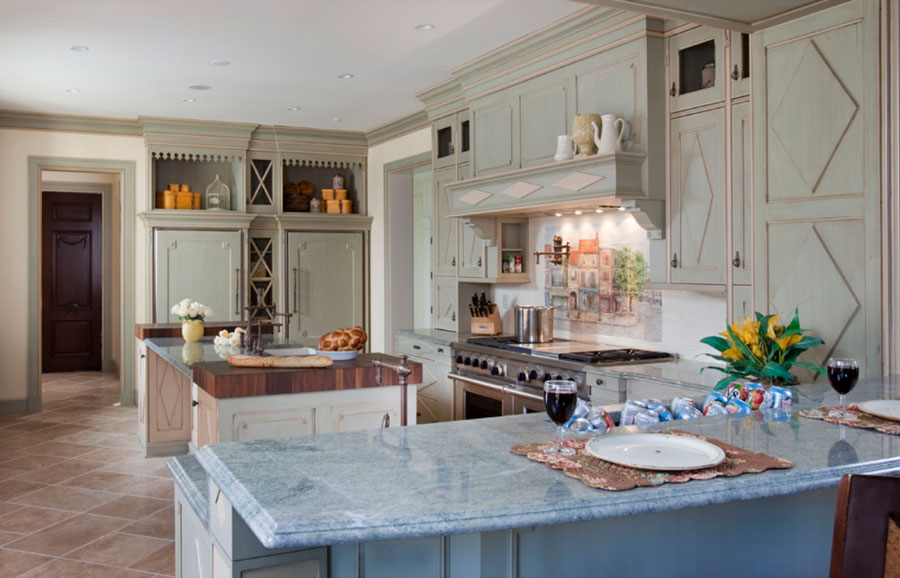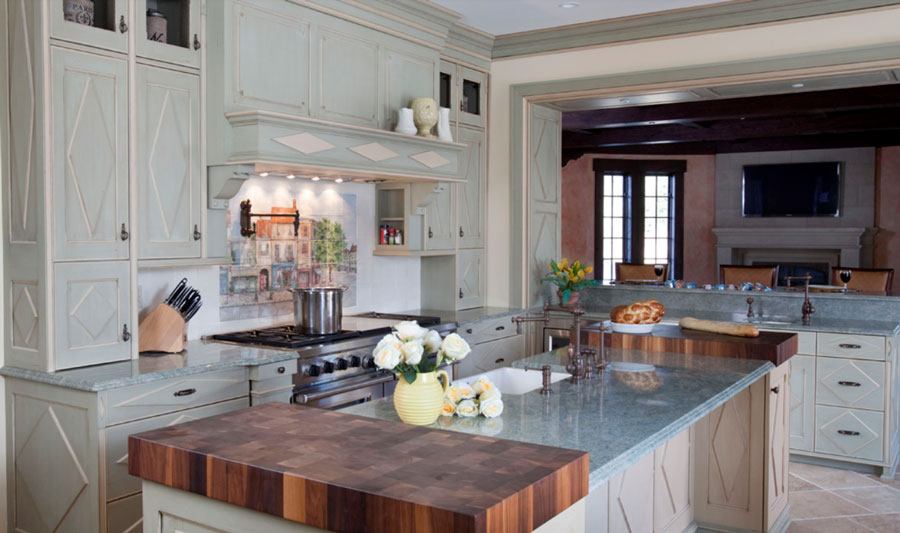 RECENT POSTS
Signup for Our Newsletter