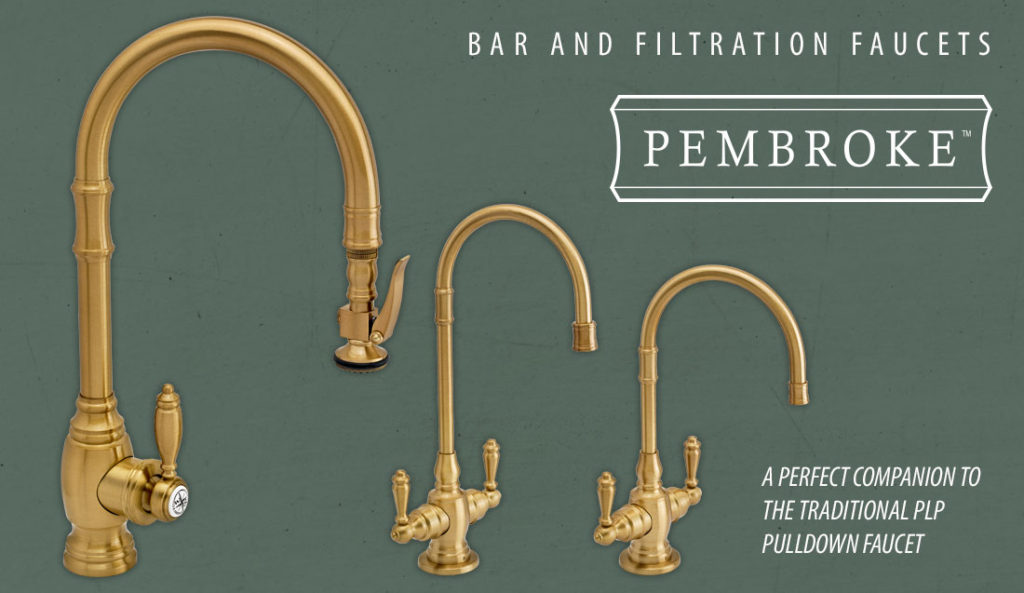 INNOVATIVE DESIGN MATCHES ALL TRADITIONAL PLP PULLDOWN FAUCETS
When thinking of great combinations, peanut butter and jelly could be right there at the top of the list. So, what could be better than PB and J? Well, nothing really, but at Waterstone, we believe we have come-up with an outstanding combination for your kitchen. Introducing the Pembroke Bar and Filtration Faucet Collection. An exquisite series of bar and filtration faucets that perfectly match our traditional PLP Pulldown collection. A true "mini-me" of the traditional PLP.  The Pembroke Collection was designed with the same decorative finial elements on the neck and spout tip as our traditional PLP Pulldown.  Side by side, these two faucets will become stunning centerpieces to any kitchen. The Pembroke is available in 3 types of filtration faucet, cold only, hot only and a dual handle hot/cold combo. At Waterstone, we never stop innovating. We are all about SUITING your kitchen sink area. Our traditional PLP Pulldown is already a popular choice with foodies and home chefs. By adding the convenience of hot or cold filtered water on demand filtration faucet, it creates a professional-level functionality in your kitchen that's ideal for food prep. Just think of the ultimate food station you could create. Plus, it will look fabulous!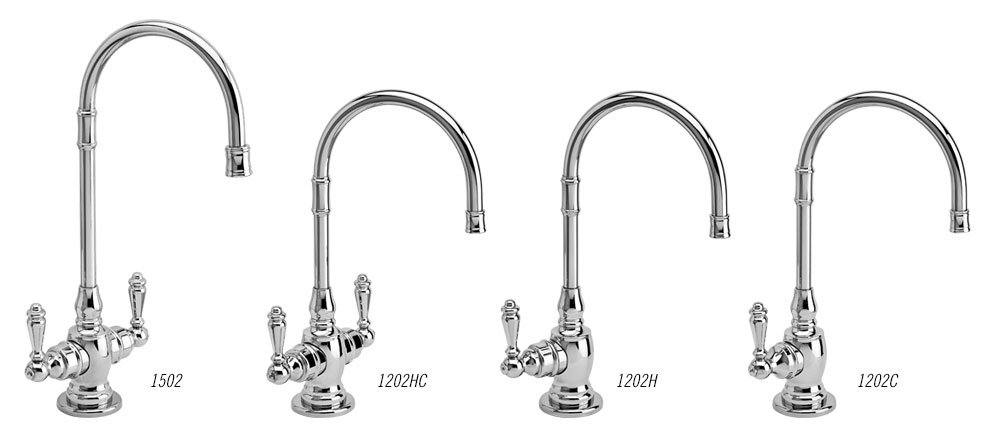 Can't stand the taste of tap water? When combined with any Waterstone Under Sink System, these Pembroke traditional filtration faucets can remove chemicals and particles that may be in municipal water. Get instant hot water for boiling, coffee, tea or soup. Quench that thirst with refreshing cold, purified water, right from your kitchen sink. The Pembroke Filtration Faucets feature an elegant C-spout with a 5" reach and can swivel 360 degrees. A smooth 1.1 gpm (gallons per minute) maximum flow rate gives a perfect pour. Available with lever handles or cross handles, they also include a 1/4 turn ceramic disk valve cartridge. These Pembroke faucets are made of solid brass construction for a lifetime of durability and are available in 30 finishes.
Now that you've wolfed-down those PB and Js, it's time to clean up. When you are cooking with family and friends, clean-up is made easy with the PLP's innovative pull down sprayer. When spraying, a flexible braided hose moves with you while the counterbalanced weight prevents the tug-back effect that most pulldown faucets have. Reach every corner of the sink during cleanup and when finished, the sprayer "locks" back into place. This innovative positive lock design holds the ergonomic handle in place and prevents sag when not in use.
At Waterstone, we make jewelry for your kitchen! We have once again created an amazing product that not only adds the desired functionality to a kitchen, but looks great in the process. The PLP Pulldown Faucets and the Pembroke Bar and Filtration Faucets are a stunning duo that go together naturally – just like hot dogs and baseball. They are built in the same style and with the same quality, from the same faucet company – Waterstone, a U.S. based faucet manufacturer. All faucets and accessories from Waterstone are made in Murrieta, California – never overseas. We take pride in being Made in the USA and it shows in the quality and craftsmanship of our products.
RECENT POSTS
Signup for Our Newsletter