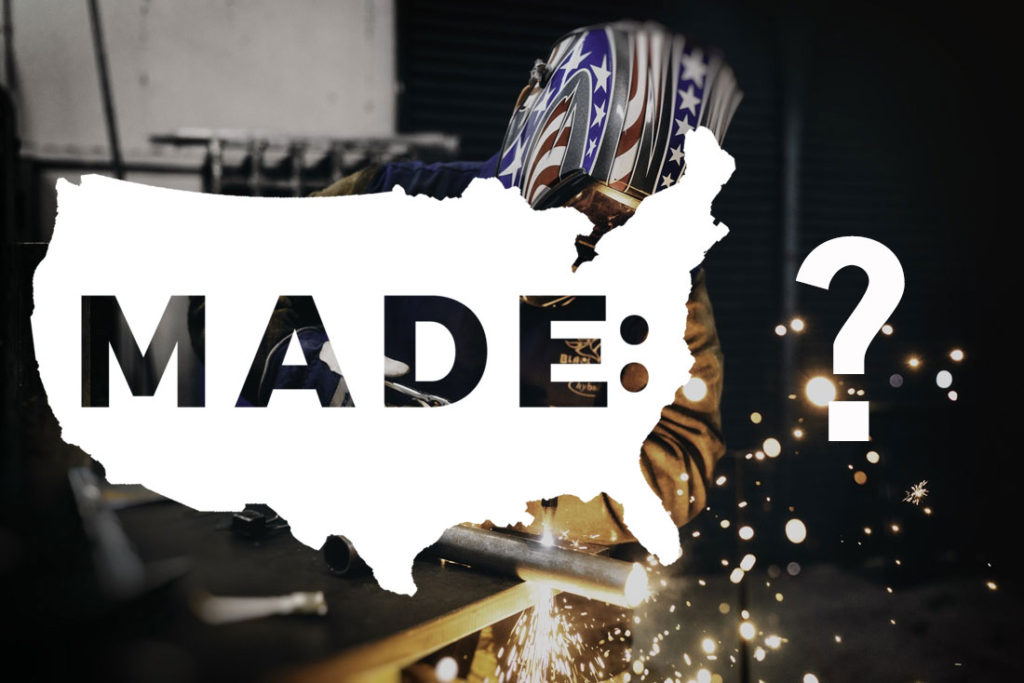 Made in America?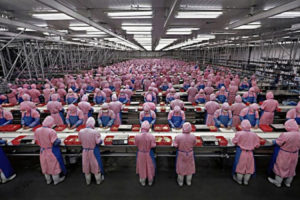 Since the 1970's, the U.S. production of American Made and manufactured goods has been steadily on the decline. This drop-off, has come from the mass of cheaper overseas products that have flooded U.S. markets. This has made it difficult for consumers to find truly made in America products. U.S. businesses have recognized the importance of claiming "Made in America." That title automatically buys them prestige in the market and into American homes. U.S. shoppers would rather buy American Made, but manufacturing here is more difficult and expensive. That makes true American made products hard to find. Unfortunately, there is a shady little work around that can get your product labeled "Made in the USA." It is a dirty little secret and businesses are pulling the wool over Americans eyes. They are telling little white lies to profit on good intentions.
So, What's Going On?
Here's the problem: Many American based businesses are recognizing the importance of being American Made. However, they don't want to have to jump over the difficult hurdles of actually manufacturing here in the States. So, here is the deception. All an American manufacturer has to do is buy pre-made product from overseas, ship it to the U.S., assemble it, package it, and then claim that it's "American Made." However, the product itself is made from overseas materials, manufactured by overseas factories, and gives the majority of the jobs to people overseas! These companies are able to claim the "American Made" title because at the very last stage of the process, American workers handled the product. What they should be claiming is that their product is "American Assembled." Some do, but the majority prefer to take advantage of the legal loophole and leave their customers believing a false truth.
Why is no One Stopping This?
The Federal Trade Commission (FTC) is the group that monitors the American Made claims and is charged with preventing deception and unfairness in the marketplace. However, the law that allows them to enforce companies to show where their U.S. content was created is only applied to automobiles, textile, wool, and fur products. There is no law that requires other products sold in the U.S. to be marked or labeled Made in USA correctly. There is no rule against having any other disclosure about their amount of U.S. content. This allows companies to falsely advertise "Made in America," when in reality they aren't. By buying all of their product overseas they are sending away jobs and the ability to grow America's manufacturing economy.
Why Does it Matter?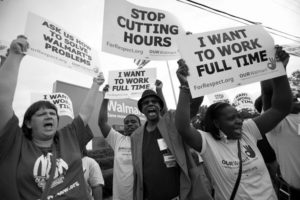 You may be wondering: "OK, so why does any of this matter?" When businesses decide to take the easy and cheap route of buying and shipping from overseas, they are creating a couple of different problems.
Job Loss
By manufacturing overseas, companies are shrinking the jobs for future generations and limiting America's independence. When we start to diminish the amount of manufacturing businesses, you are diminishing job opportunities for hard working U.S. citizens and giving them to people overseas. This also causes Americans to have to rely on those overseas countries for supplies, limiting our economic independence.
Pollution
U.S. manufacturers that go overseas are hurting our environment. The amount of pollution coming from foreign factories is enormous. From the mining of materials, the coal supplied power, the factories themselves and then the cargo ships that bring the product over here. Many of the countries these products are shipped from don't have a government that enforces pollution regulation. Here in the United States, we have strict pollution regulations so that our air will stay clean. Overseas, that doesn't always exist.
Foreign Labor Standards
Overseas manufacturers are not acknowledging foreign labor standards. The reality is that in many countries there are no foreign labor standards. Children to elderly are forced to work long hours in unprotected environments for almost no pay. You may think "That's not fair!" but every time you buy something made overseas, there is a good chance you are adding fuel to the fire to that situation. Poor working conditions mixed with the poor pollution leads to poor lives and we are enabling it.
Quality of Goods
Overseas manufacturers are claiming that their products are up to American standards, but the majority of the time, they are not. When you buy America made products, you expect to get high quality. Businesses that make that claim and then produce low quality, inferior products are dragging America's reputation through the dirt.
How to Spot the Lie: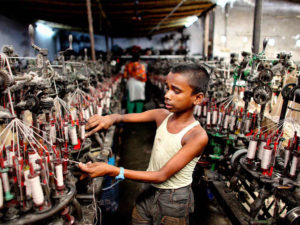 If you want to buy truly Made in the USA products there are a few ways to make sure you are buying the genuine thing. First go and check out their website, if they claim to be American Made look at the fine print. A lot of times they will double back and say American Assembled instead. If it seems unclear, give the company a call and specifically ask if they are American Manufactured or just American Assembled. If they still claim to be American Made feel free to ask them where their manufacturing plant is in America, or which American business they source their materials from.
A good example of truly Made in America company is Waterstone Faucets. We design, engineer, manufacture and assemble all of our parts here in Murrieta, California. For materials, we purchase brass and stainless steel from Chase Mills in Ohio. There are a few smaller parts we have to buy from overseas. Like plastic O-rings to secure water leakage. We would happily buy that O-ring from an U.S. business, but because of the decline in American manufacturing, there is no one in the States that makes what we need. Although we do use foreign O-rings, 99.5% of our faucets and accessories are manufactured in the U.S.A. We are qualified by the FTC to claim we are Made in America. If other businesses can't answer those questions for you, then you probably have a bogus business on your hands.
So, the next time you go to buy a Made in the USA product, be sure that you know where you are buying it from. Only you can make a difference for our country.
RECENT POSTS
Signup for Our Newsletter