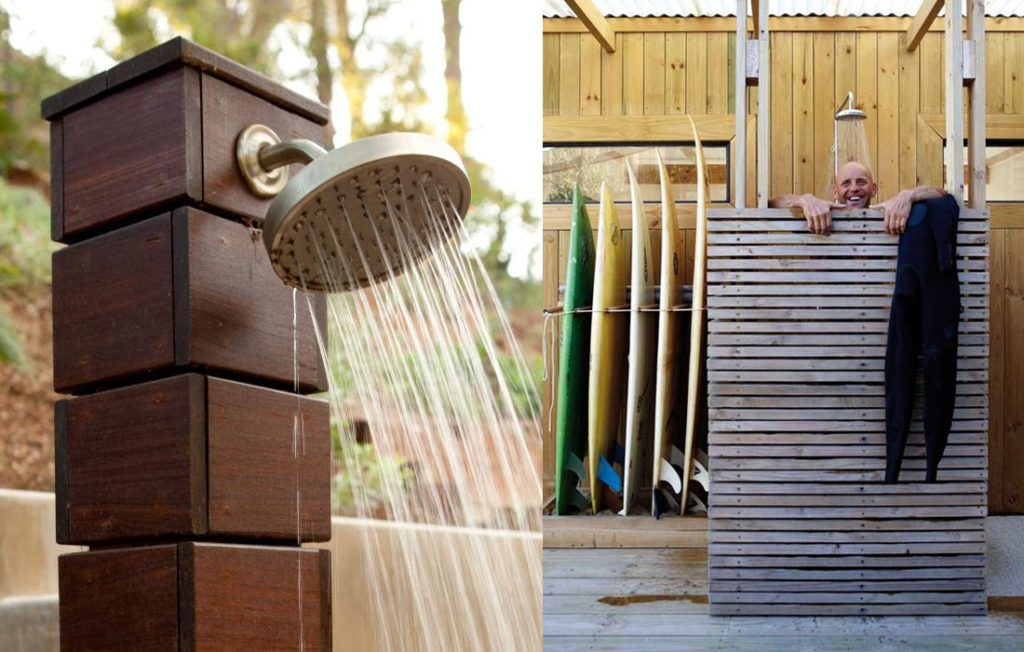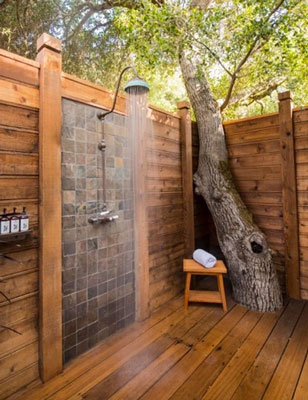 Outdoor showers are becoming more popular as people become aware of the pros of having access to a shower outside of the home, but are there any cons to showering outside? Here is a list of pros and cons to installing a new outdoor shower in your dream home!
Pro: Romance galore!
If you haven't ever taking a hot steamy shower under the stars, you should put it at the top of your bucket list! Light a few candles and you have yourself a magical shower oasis without having to worry about fogging up the windows or someone banging on the door needing to use the restroom. Showering outside can be a refreshing change and allow you to escape from the daily routine and do something a little more romantic.
Con: It's dang cold.
Showing under the hot water is awesome, but the moment you turn that water off it's a race to get your towel on and back into the warmth of the indoors. Any kind of wind, rain, or even snow can also add to the icy cold rush back to the house. However, this con can also be a pro if your goal is to wake up!
Pro: Great for guests
Having an extra shower is always a good thing, especially if you have guests staying over. Showing outdoor is also a novelty and your guests might love the new experience. Having that extra room for showering can ease a small space situation, and be more comfortable for you and your guests.
Con: It can get pricey $$$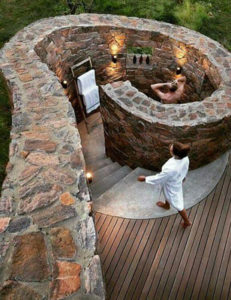 Having that extra shower available might create a more comfortable situation for smaller homes but that extra water can also cause the bill to rise. Water can get pretty expensive, especially here in California were our Waterstone factory is located, so having another shower might make those bills a little more painful to pay.
Pro: Your pet will love it
Most of us know the pain of having to bath a pet. When it's time to give Mr.Barkers a shower, an outdoor shower will be better for you and for him. When it's cold out, the warm water beats having to hose them down or risk bathing them in the house and getting wet dog smell everywhere.
Con: Other animals will love it too
If you aren't a fan of things that creep and crawl, an outdoor shower may not be for you. The reality is that when you shower outside you are OUTSIDE. That comes with all of the lovely little critters that also live outside. Depending on where you live that could mean mosquitos, bees, spiders, mice… ect. However, if you live somewhere that you don't have to worry about those things (like the moon), outdoor showers are awesome!
Pro: Fun for kids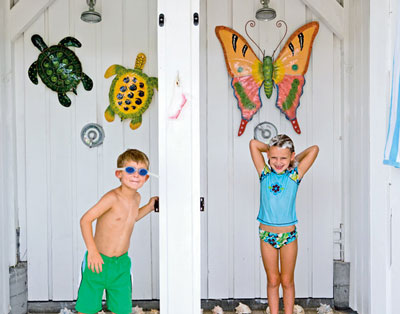 If you have a large family, an outdoor shower might be a fun addiction to the house. If you have stubborn little ones that don't like taking regular baths, perhaps the fun aspect of an outdoor shower might appeal to them. Having extra bribing tools can never hurt when it comes to kids. On top of that you don't need to worry about them splashing water all over the floor, which is a big plus.
Cons: You do still have to clean it
Outdoor showers tend to collect things over time, such as leaves, dirt, and anything else the wind can blow in from outside. They can get pretty messy and will need to be cleaned out regularly to ensure that people bathing it are actually getting clean.
Pro: It will make you smile
There is nothing like being naked outdoors, and an outdoor shower will ensure that your life can still be wild every once in a while. Don't believe me? Just wait until you forget to bring a towel out and have to run bare-bunned across the yard to the safety of your house all while hoping your neighbors aren't watching. As adults, it's important to still keep some spice in your life, and maybe having an outdoor shower will be that spice for you.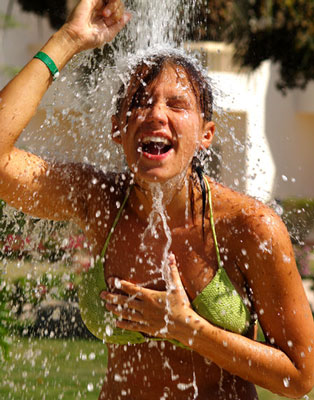 Outdoor showers aren't for everyone or every home, but after reading this list they still sound good to you, maybe you should just go ahead and get one. Waterstone hopes you have enjoyed this list, follow us on Facebook, Instagram and Houzz for more articles like this!
RECENT POSTS
Signup for Our Newsletter