MULTI-STAGE WATER FILTRATION UNIT
• 1000 gallon capacity filtration system.
• Single cartridge multi-stage filter. 1st stage filter – 20 microns, 2nd stage – 5 microns and 3rd stage filter – GAC.
• Dimensions: 7" W x 6-1/4" D x 15-1/2" H.
• Unit Weight: 4.75 lbs.
• For municipal potable water use only
• Intake water press. range: 40 psi to 100 psi max.
• Intake water temp. range: 32F to 120F max.
• Includes attachment tubing.
• Made to work with AS-414 Safety Valve Leak Detector.
• Manufactured by Nimbus Inc, and distributed by Waterstone Faucets.
• Manufacturer provided 1 year warranty.
Add a Waterstone Cold Only Filtration Faucet to complete the package (faucet not included).
Common Elements Found in Drinking Water
These elements can be handled by this multi-stage GAC filtration system. This system is effective, economical, and a perfect accessory with your Waterstone Hot & Cold, Hot only, or cold only drinking water faucet.
Acetaldehyde
Acetone
Amines
Amyl Acetate
Benzene
Bleach
Bytly Alcohol
Butly Acetate
Calcium Hypochlorite
Chloral
Chloramine
Chloroform
Chlorine
Clorobenzene
Chlorophenol
Chlorophyll
Cresol
Defoliants
Diesel Fuel
Ethyl Acetate
Ethyl Acrylate
Ethyl Amine
Ethyl Chloride
Ehtyl Ether
Gasoline
Heavy Metals
Herbicides
Hydrogen Peroxide
Insecticides
Isopropyl Acetate
Ketones
Lead
Mercaptans
Methyl Acetate
Methyl Bromide
Methyl Chloride
Methyl Ethyl Ketone
Naphtha
Nitrobenzene
Nitrotoluene
Odors
Oil – Dissolved
Oil – Suspended
Organic Esters
Ozone
PCBs
Pesticides
Phenol
Plastic Taste
Potassium Permanganate
Propionaldehyde
Propyl Acetate
Propyl Chloride
Radon
Rubber Hose Taste
Sodium Hypochlorite
Solvents
Sulphonated Oils
Tar Emulsion
Taste from Organics
THMs
Toluene
Toluidine
Trichlorethylene
Turpentine
Xylene
The Waterstone Multi-Stage Filtration system features a single cartridge 3-stage replaceable filter. The first stage is a 20 micron pre-filter, followed by the second stage 5-micron pre-filter, with a final stage GAC (Granular Activated Carbon) filter. This unit meets the requirements for NSF 42 & 53. The 30101 system is rated at 1000 gallons providing exceptional filtration capacity and effectively reducing chlorine, VOCs (Volatile Organic Compounds), bad taste and odor from your municipal drinking water. This system is effective, economical, and a perfect accessory with your Waterstone Hot & Cold, or Cold Only drinking water faucet.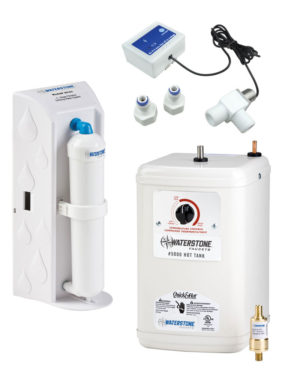 Upgrade to the Ultimate Under Sink System.