YORKTOWN SINGLE PORT AIR GAP
• Prevents dishwasher back flow and dirt buildup.
• Extra large drain port minimizes clogging.
• Part of the transitional Yorktown Suite.
• Unique angular design.
• Cover hides upper nut and washer edges.
• Made from eco-friendly solid brass.
• Made in the USA.
Available in 32 finishes.
Finish shown – Chrome.
SEE ALL FINISHES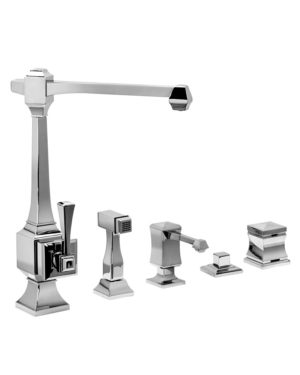 Yorktown 4pc. Kitchen Faucet Suite

Backwash can contaminate your clean dishes and water supply. The transitional style Yorktown Single Port Air Gap prevents dirty drain water from flowing back into the dishwasher and water systems. Not only is the air gap unit designed to stop brine water and reduce dirt in your kitchen pipes, but will look gorgeous in the process. A modern design with a slight traditional touch, this Single Port Air Gap matches all Yorktown Kitchen Faucets and accessories. Cover is made from eco-friendly solid brass and available in 32 finishes. Made in the USA and comes with a lifetime functional warranty.
Specified model meets or exceeds the following Codes & Standards:
• UPC