Aerator
A faucet aerator is a device normally placed at the tip of the spout on a faucet and designed to introduce a mixture of air to the water stream. Its intended function is to produce a nearly splashless straight or "clean" stream.
Bar Faucet
A smaller overall size faucet intended to be used with smaller bar or prep sinks. A perfect second faucet for prepping food, mixing drinks, or having easy access to drinking water. Waterstone Bar Faucets cannot be used with a side spray.
Ceramic Disc Cartridge
A high quality valve that typically uses two ported ceramic discs to open, close, and/or mix the flow of water in a faucet body. These valves are characterized by their long and reliable service life.
Check Valve
This is a small device that will allow water to flow in one direction, but not in the opposite direction. Prevents back flow.
Clear Coated Finish
A clear protective coating that is sprayed on the outside of a fixtures finish and used to seal and protect the fixture.
Distressed Finish
This refers to an accelerated aging process which Waterstone Faucets puts newly manufactured parts through to create the outward appearance of a product that has survived years of aging and use. This aging process is done in a controlled manner by mechanically marring, nicking and scratching the external surfaces. All internal functional areas remain new, ready for years of continual service. All of our distressed finishes are sealed with an outside clear coat to protect the look of the finish.
Connection Hose
The hose that connects the faucet to the hot or cold water sources.
FILTRATION FAUCET
A drinking water faucet specifically designed to be used with water filtration systems. Typically a smaller faucet that is intended for low pressure water delivery.
FILTRATION UNDER SINK SYSTEM
Model # 3000 includes the 1000 gallon capacity Multi-Stage Filtration Unit and Safety Valve-Leak Detector in a single package.
Gantry® Pull Down Faucet
"Gantry" is a trademarked name for the Waterstone Faucets pre-rinse faucet. This faucet's trademarked name was derived from the working Gantry crane's range of motion and distinctive look.
HOT TANK
A small water heating tank designed to be used only with a 3-line vented filtration faucet. Delivers hot water temperatures within a limited capacity. The Hot Tank carries a 3 Year Warranty.
Insta-Hot Under Sink System
Model # 1000 provides all three Waterstone Under Sink Products in a single package. The system includes a Hot Tank, 1000 gallon capacity Multi-Stage Filtration Unit and a Safety Valve-Leak Detector. The Hot Tank carries a 3 Year Warranty.
LIVING FINISH
A finish that will change over time as it is exposed to oxidation and usage. This is a natural finish that is not protected with any type of external or clear coating. Not considered a durable finish and is easily scratched or marred.
Multi-Stage Filtration System
Our 30101 filtration system has three separate filter sections all encapsulated in one easily replaceable sealed cartridge. Each step or "stage" of the filtration process is designed to remove a different level of water contaminate. The first two "stages" are considered pre-filters and the third "stage" is a Granulated Activated Carbon (GAC) filter designed to be the final trap for most of what is experienced in municipal water systems.
PATINA
The external layer of oxidation that naturally occurs on the surface of the base metal. Metals react differently due to time frames and chemicals designed to accelerate this natural process which creates a variety of colors and hues that result in a living finish.
POT FILLERS
A faucet that is specifically designed to be mounted above (wall-mounted) or beside (deck-mounted) the kitchen stove top in order to deliver water directly to a cook pot or pan on the cooking surface. This faucet is usually a single handle cold water only fixture.
POWDER COATING
This is a type of decorative finish that is electro-statically painted on to the surface of the parts and subsequently baked on and "cured" in a commercial oven.
Prep Faucet
A full size faucet that has a shorter reach spout to accommodate smaller prep and bar sinks. All Waterstone Prep Faucets have the distinction of being able to be used with a side spray.
Pre-Rinse Faucet
This faucet is borne from commercial kitchen use. It has found its way into residential culinary kitchens and incorporates an attached hanging spray (in addition to the normal faucet spout) that is used for pre-rinsing cookware, dishware, and utensils in the cleaning process.
Pressure Regulator Valve (PRV)
The Waterstone Faucets Pressure Regulating Valve is an inline valve that mechanically reduces a higher pressure of water coming from the house source down to a maximum of 60 psi or lower. This valve is used to protect the Waterstone Faucets Hot Tank from excessive household water pressure damage.
Safety Valve Leak Detector
This automatic on/off device is designed with a sensor that can detect the presence of water in the base of the kitchen sink or vanity cabinet floor. When connected to a Waterstone Faucets Insta-Hot or Filtration Faucet when the unit detects moisture, the valve is automatically closed shutting down the flow of water to the faucet to prevent any further leaking or possible damage. Additionally, the unit sounds an audible alarm (like a smoke alarm) to further advise of a water leakage issue. The valve doubles as a manual shut-off valve to facilitate the change of a filter cartridge for the Waterstone Faucets filtration system.
Ultimate Under Sink System
Item # 1000 Provides all three Waterstone Under Sink Products in a single package. The system Includes a Hot Tank, PRV (pressure regulator valve), 1000 galleon capacity Filtration System and a Safety/Leak Detector unit. The Hot Tank, when installed with the PRV and a Waterstone Faucet carries a 2 Year Warranty.
Vented Faucet
Sometimes called a "three line" faucet, this type of faucet is designed to work with inline devices like Waterstone Faucet Hot Tanks that cannot handle full inline pressure. The on and off valve is placed in front of the device and the water is routed through the device in the vented "loop" and returned back up through the end of the spout. This assures the inline device is always open to ambient or atmospheric pressure (i.e. "vented").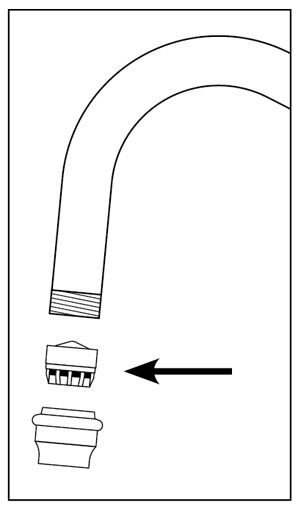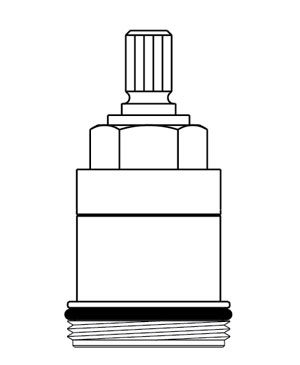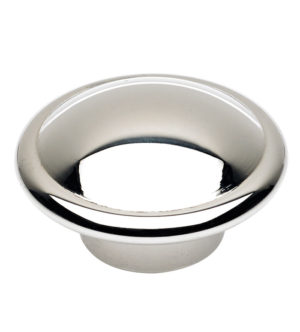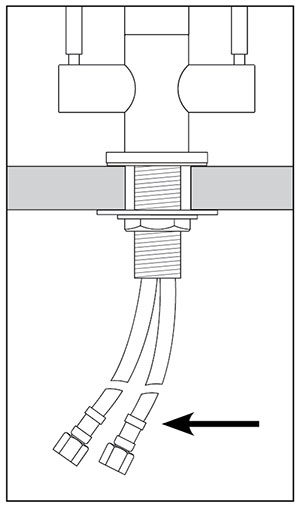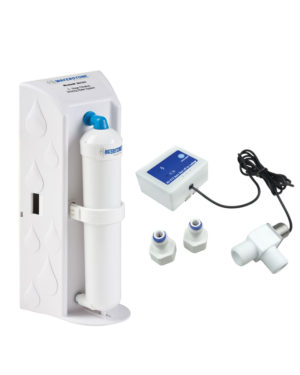 FILTRATION UNDER SINK SYSTEM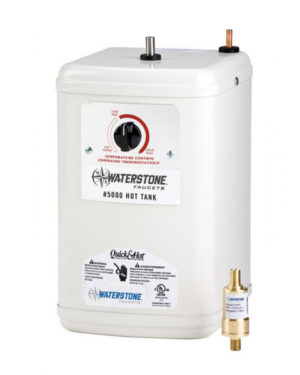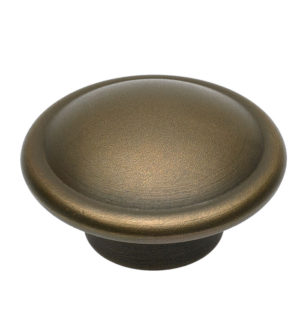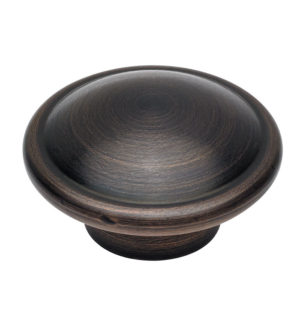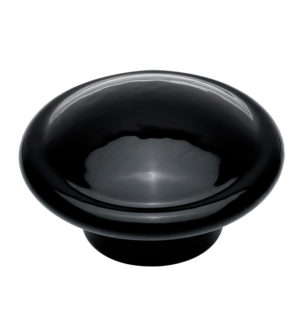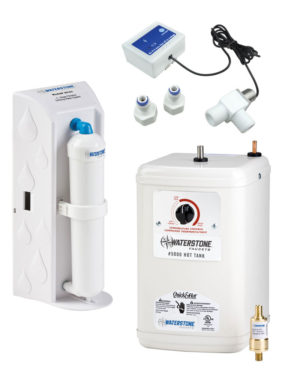 ULTIMATE UNDER SINK SYSTEM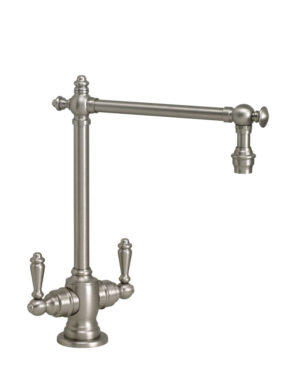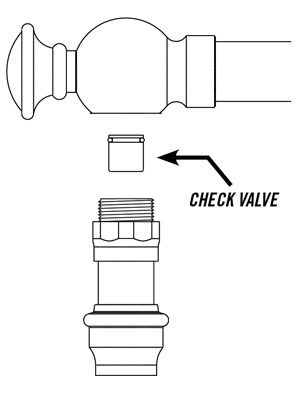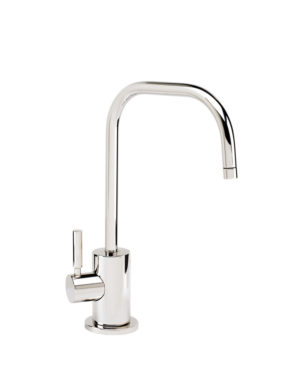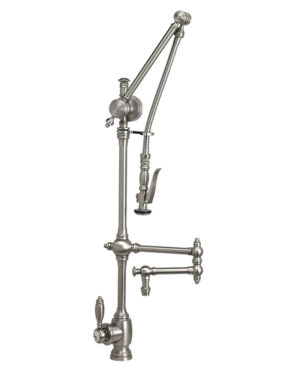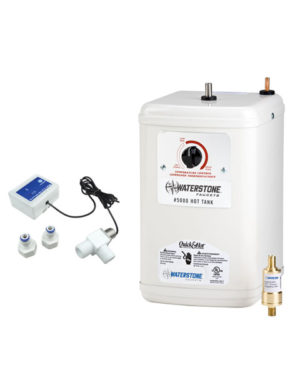 INSTA-HOT UNDER SINK SYSTEM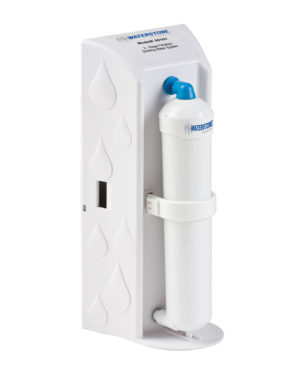 MULTI-STAGE FILTRATION UNIT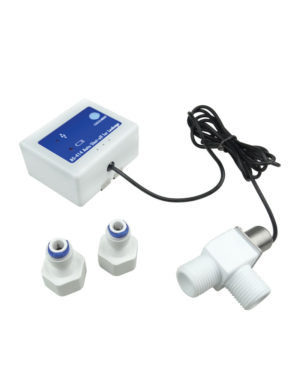 SAFETY VALVE LEAK DETECTOR