Can't decide on a finish? Try two! Waterstone offers custom split finish faucets in select combinations. Choose a primary and accent finish to create a unique faucet that matches your kitchen's color scheme. Create any combination of the standard finishes listed below.
Chrome
Classic Bronze
Matte Black
Polished Nickel
Satin Nickel
Stainless Steel
HOW TO ORDER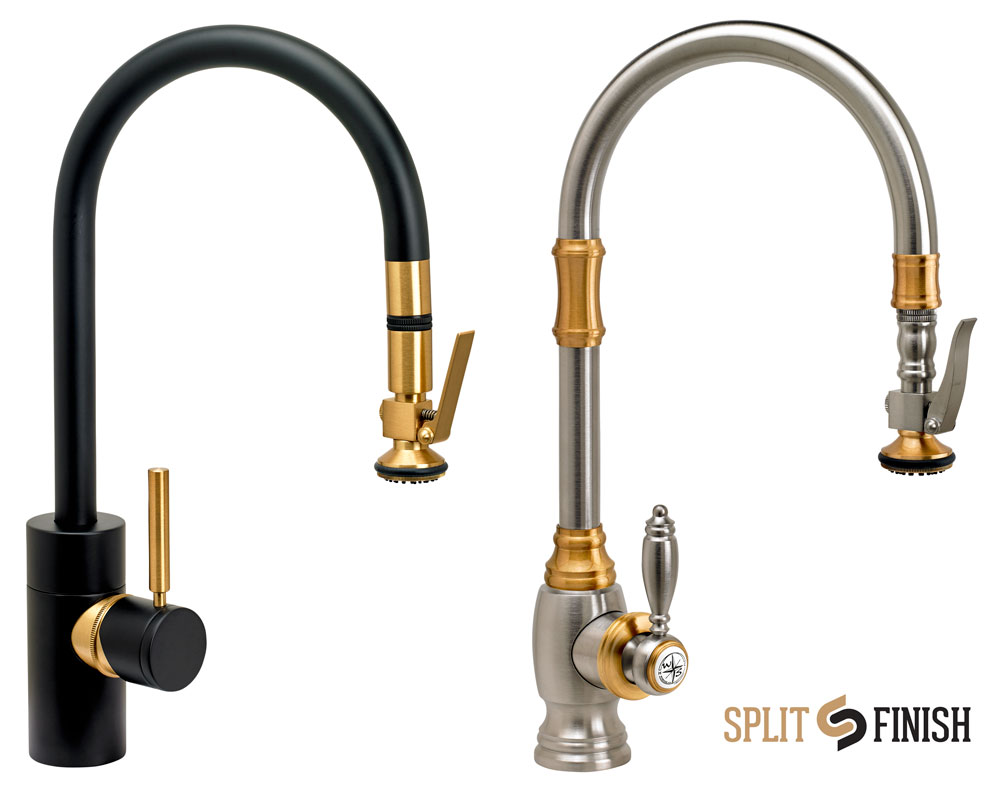 Transitional Pulldown in Matte Black/Classic Bronze and the Traditional Pulldown in Satin Nickel/Classic Bronze
HOW TO ORDER STANDARD SPLIT FINISHES:
• Select a Waterstone STANDARD Split Finish: Waterstone has designed some split finishes for our top selling models of Faucets, Accessories, and Hardware. These designs are focused on highlighting elements in the product that will give a truly balanced and unique look to the kitchen. Select the model and then the finish combination. The model number should look like this 5800-MB-CLZ. The Primary finish listed first then a dash followed by the accent finish.
• Waterstone has also designed some finish combinations that match-up well with the High end Kitchen Range and Oven manufacturers. If you decide to order a Waterstone Standard Split Finish, we are able to produce the product in standard lead times and at only a 10% mark-up.
• Lead times are equal to the finish selected that has the longest lead time, for the product selected. Example: If the client chooses Matte Black/Stainless Steel, Matte Black has a 4 week lead time and Stainless Steel has a 2 week lead time, then the lead time for this split finish combination would be 4 weeks.
• Base pricing for this same finish combination Matte Black (Group 2) Stainless Steel (Stainless Steel Pricing group), would be the Stainless Steel pricing group. The higher of the 2 selected finishes.
• The WARRANTY on STANDARD finished products is the shorter of the two finish warranties. (ie Matte Black has finish warranty of seven years, and stainless steel has a lifetime warranty. A split finish of matte black and stainless steel would carry a finish warranty of seven years).
The faucets below are the only products eligible for split finishes at this time. Faucet parts for standard split finish are predetermined. On the line drawings below, white parts are the PRIMARY finish. Shaded parts are the ACCENT finish.