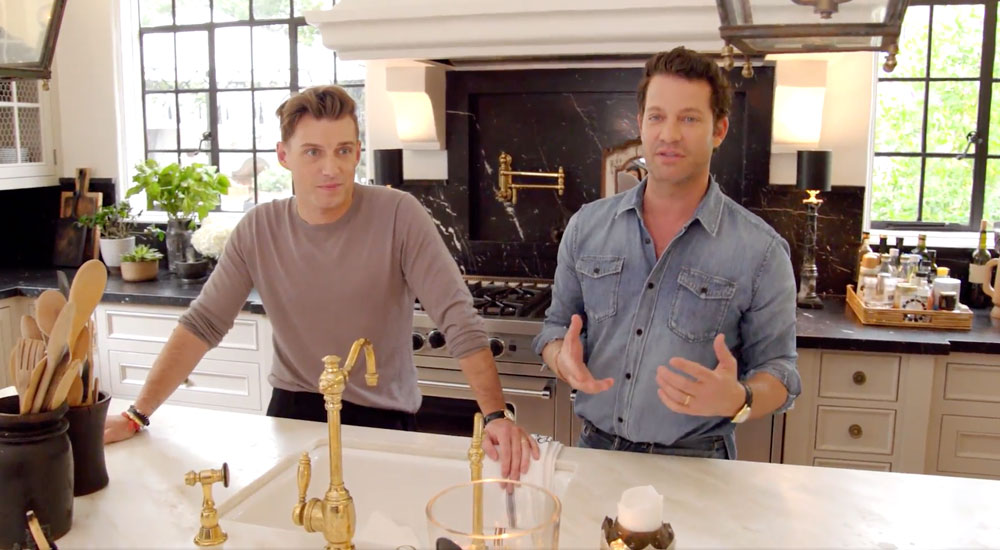 In a recent Open Door Video Series on Architectural Digest, celebrity designers Nate Berkus and Jeremiah Brent give a full-access house tour around their spectacular 1928 Spanish Colonial home in Los Angeles. The stars of TLC's Nate & Jeremiah By Design take us through the design techniques and innovations that make their home unique.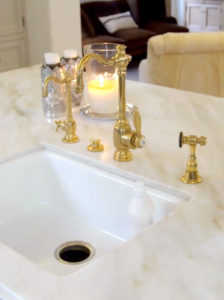 The 9,000 square foot home starts with a grand stairway in the entry that still has with its original wrought-iron balustrade. Straight out of a movie from Hollywood's Golden Age. All rooms are large and bathed in sunlight. The backyard is filled with gurgling fountains, a koi pond, vegetable gardens and a 200 year old oak tree.
In the kitchen, very little was changed. "This kitchen actually we didn't really have to change that much because the layout was exactly what it was," says Jeremiah. "And this island was exactly how it was, the same stone, even the same paint on the base. This kitchen, for whatever reason, the second we walked in to it, it felt like the heart of the home, and it really is the heart of the home. Every morning, every evening, every moment. It makes it that much sweeter."
The main sink area features an polished brass Annapolis Bridge Faucet Suite on a farmhouse sink. It matches perfectly with the Whitechapel brass knobs and surrounding countertops by Ollin Stone. On the island sink sits a polished brass Waterstone Annapolis Prep Faucet with matching Annapolis Filtration Faucet. Circa-1960 French barstools surround the island, with 19th-century French lanterns lighting it from above. Above an amazing stainless steel stove, is a Waterstone brass Wall Mounted Potfiller.